Product Description
Our gelled ethanol is composed with only the highest quality ethanol.
Our clean burning formula provides maximum economy, fast and high heat output. Our quality gel also burns without the risk of spill, flare-ups when lighting, sputtering or uneven burning. In this way AM-Heat gel maintains optimum temperature throughout its life combined with a high level of safety.
Because of the absolute clean burning, no residue is guaranteed.
AM-Heat Ethanol gel is available in 200 grams high quality tinned and lacquered cans. Burning time guaranteed up to 3 hrs and more. Packaging, steel can as well as our gel is 100% recyclable.
product graph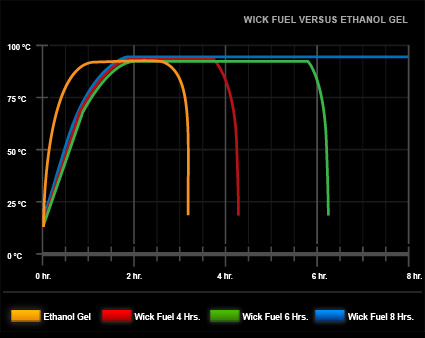 Product Information
Ethanol gel content
230 ml.
Minimum declared burn time
2,5 hrs
Average actual burn time:
(Ascertained through a series of independent trials.)
3 hrs
Maximum temperature:
94° C
Package info:
48 cans per carton
Pallet info (110×110):
102 Cartons
(Minimum order
51 Cartons)
Package info:
72 cans per carton
Pallet info (110×110):
72 Cartons
(Minimum order
36 Cartons)
Gel without air pockets – No sputtering!
Non-toxic – Non explosive
Odor Free
Burns smoke and carbon-dioxide free
Lights Easily
Equal burning throughout its burning cycle
Clean blue flame – no carbon soot below the chafing dish